CV-SALTS – Managing Salt and Nitrate in the California Central Valley
Prioritization & Optimization Study
The P&O Study is developing the technical information and roadmap to describe and address the long-term problem of salt accumulation in the Valley. The study is intended to answer key questions:
Over the next four years, the Central Valley Salinity Coalition (CVSC) will direct studies to update the understanding of salt conditions across the Valley, identify salt management regions and salinity targets, and develop initial alternatives for managing salt to close the gap between current conditions and the salinity targets. From these studies, CV-SALTS will formulate recommendations for review and consideration by the Central Valley Water Board. Figure 1 shows the near-term activities and milestones.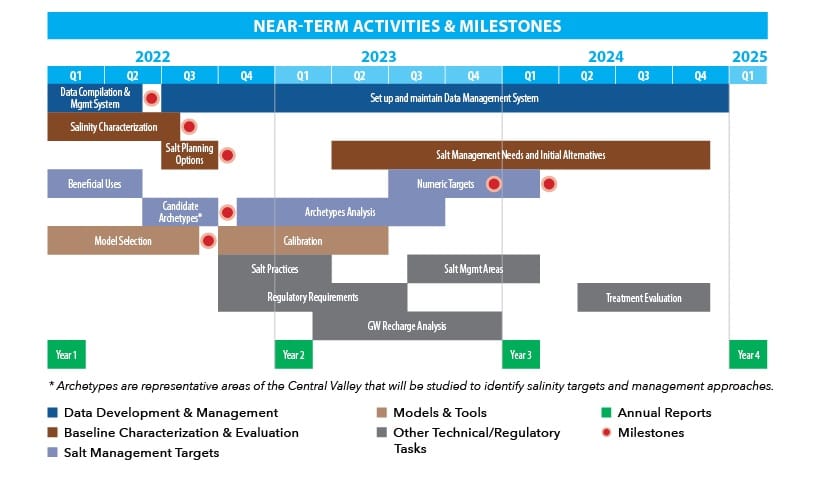 In subsequent years of the Salt Control Program, CV-SALTS will coordinate and guide studies of projects and management actions to achieve the Salt Control Program goals. These studies will identify the location, feasibility, and cost for regional and subregional projects such as de-salters, a regulated brine line, salt storage/management areas, and other groundwater recharge and management actions. The long-term decisions and milestones include:
These studies will lead to development of proposed changes in salinity regulations to incorporate into future basin plan amendments and Phase II and III efforts.
Addressing salt accumulation in the Central Valley will face inherent challenges:
The salt accumulation problem in the Valley is broad and far-reaching—touching on virtually all human activities.
The Valley is highly diverse, with varied water supply and salt conditions, so water quality targets and solutions will need to be tailored to regional conditions.
The salt problem is a long-term, slow-moving impact that unchecked will have substantial impacts on the economic sustainability of the Valley. Steady, persistent funding and solutions will be required to avoid these impacts.
The P&O Study must also consider important external factors, such as:
Valley-wide efforts to address salt accumulation touch on all aspects of water quality and water management. As the Salt Control Program proceeds, additional local and Valley-wide coordination will be important to continue to gather information, solicit input, and develop additional partnerships.
Coordination with related programs and organizations is a core function of CV-SALTS activities. The Program will continue and expand coordination throughout the P&O Study.
CV-SALTS continues to grow participation from people and organizations interested in and concerned about water quality in the Central Valley.