Providing safe drinking water and managing water quality in the Central Valley for long-term sustainability.
The CV-SALTS Program is a collaborative initiative among business, government, and community organizations to address nitrate and salt accumulation affecting water supplies.
CV-SALTS investigates salt and nitrate water quality challenges in the Central Valley and develops and recommends policies and actions to improve quality and efficiency for all users. The program includes representatives from growers, dairies, industries, local communities, government agencies, environmental and community organizations, and the Central Valley Regional Water Quality Control Board.
What Problems Do We Solve?
In some areas of the Valley, nitrate has accumulated in groundwater to the point that drinking water for rural households and small water systems does not meet safe standards. Across the Valley, rising salt levels threaten to turn this productive basin into a land where the water is not fit to drink and land not capable of growing crops.
Nitrate Control Program
Provide safe drinking water, reduce nitrate impacts to water supplies, restore groundwater quality, where reasonable and feasible.
Salt Control Program
Develop and implement long-term solutions for managing salt in the Central Valley.
Safe Drinking Water
Provide information and safe drinking water for households affected by high levels of nitrate.
2022 Participating Organizations
Local Nitrate Management Zones
Household Equivalents Provided Water
2022 Salt Program Contributions (Millions)
Last Updated:  November 18, 2023
CV-SALTS Program Overview - NEW VIDEO!
A new 14-minute video from Valley Water Collaborative highlights the CV-SALTS program history. 
Click below for a look behind the scenes profiling the stakeholder effort supporting the CV-SALTS mission:  "To develop and implement Central Valley-wide salt and nitrate management plans."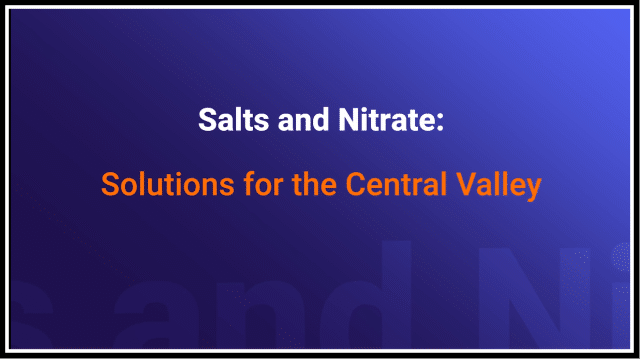 Well Testing Expanded to All Drinking Water Contaminants
Valley Water Collaborative Management Zone adds non-nitrate contaminants to its well tests. The program expansion is funded by a grant from the State Water Board's Division of Financial Assistance (DFA) and its Safe and Affordable Drinking Water Fund (SAFER).  Other Management Zones not far behind.